50 Gorgeous Side Swept Bangs Hairstyles
Bangs offer up an incredible way to enhance the appearance of your face, and they work with everything from super short pixies to waist length locks. While there are tons of different bangs to choose from, side swept bangs continue to be a favorite thanks to their versatility and easy styling. A long side swept fringe can help to make round faces look slimmer, while shorter side bangs create width that balances out longer face shapes. Looking to minimize a large forehead or put more emphasis on your eyes? There's a side swept bang to make your hairstyle work perfectly with your features too. From elegant to edgy and everything in between, these are 50 of our favorite side swept bangs hairstyles.
1Mid Length Shag Style
This shaggy hairstyle uses two distinct layers to create a look that's young, fun, and great at eliminating weight in thicker hairstyles. Long bangs sweep across the forehead from a deep side part, creating volume at the sides of the face that's flattering on women with longer faces.
2Half Moon Bangs
Taylor Swift's half moon shaped bangs create a dramatic sweep across the forehead that brings some moody maturity to her mid-length hairstyle.
3Long Bangs With Curls
Long, straight bangs provide a perfect contrast in texture from the loose curls in the rest of this hairstyle, and do a nice job of both framing the face and minimizing a larger forehead.
4Blunt Bob With Bangs
This mostly blunt bob has some texture throughout that makes it manageable even with a thicker head of hair. Long bangs play up hair's natural thickness and blend seamlessly into the rest of the style, making this one of the most wearable takes on side swept bangs.
5Soft Long Bangs
These medium length side bangs create the shape and texture of a shorter fringe by sweeping down and then out to blend in with some face framing layers. If you're looking to try a low commitment fringe with your long hairstyle, these side swept bangs are the perfect starter set.
6Textured Bangs
Dress up your mid-length cut with these perfectly messed up bangs. Texture gives them enough shape that they don't need to be obsessively styled in the morning, and they hit at just the right height to create drama and angles across your face without being difficult to wear on a daily basis.
7Slightly Parted Side Bangs
This wispy fringe is somewhere in between side-swept and center-parted, making it a very wearable but unique style. This brow-grazing length is perfect for highlighting eyes, especially if there's a color contrast between your hair and eye colors.
8Long And Elegant
Long bangs can help to make your hair look sleek and elegant even when it's pulled back into a simple ponytail. A bit of hair left loose on either side of the face helps to create symmetry, and soft highlights have more room to play in these long, subtle strands.
9Perfect Piecey Bangs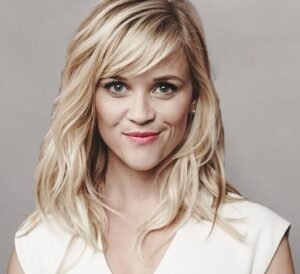 Reese Witherspoon's signature side swept bangs have been inspiring women to try the style for years. Best of all, this piecey fringe is almost universally flattering. Reese's side swept bangs works well with oval, heart shaped, or long faces, and can flatter rounder faces too, as long as the rest of hair is worn about collarbone length or longer.
10Sleek Bob
Long, side swept bangs play off of the sleek, blunt shape in the rest of this bob to create a look that's sophisticated without being unapproachable.
11Casual Side Sweep
These barely-there bangs give you all of the face flattering bonuses of having a bit of fringe, but don't come with much extra styling effort. If you're looking for a set of low maintenance bangs that can be added to pretty much any longer look, give this fringe a try.
12Texture Bangs Pixie
With long textured bangs that create amazing angles, Ginnifer Goodwin's pixie shows how flattering a shorter hairstyle can be on women with round faces.
13Short Choppy Bangs
A far cry from your everyday side swept bangs, this short fringe is a bold style choice that opens up your face and puts incredible emphasis on your eyes. Women with oval shaped faces do best with this silhouette, and generally the shorter your bangs are, the more work it is to style them into place.
14Deep Side Part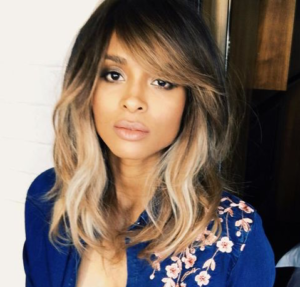 A super deep side part allows Ciara's long bangs to dramatically sweep across the forehead. One of the nice things about wearing longer bangs like this is that you can incorporate face framing color like these golden blonde highlights.
15Short Bangs Pixie
A great fringe is key to keeping your close-cropped pixie hairstyle looking feminine. These short bangs feature tons of texture, and will frame your face without covering up your gorgeous brows.
16Long Layer Bangs
These side swept bangs are so long they create a face framing layer in this swingy mid-length hair cut. Cutting across the side of the face helps this style make the face appear longer and slimmer, making it a great choice for women who want their haircut to act like no-makeup contouring.
17Thick Bangs Bob
Add some shaggy texture to your bob hairstyle with this super-thick side swept fringe. This versatile hairstyle can be parted in different areas to create a range of looks, and is a good choice whether you're trying to grow your hair out or keep it at this length long term.
18Long Feathered Bangs
Jennifer Aniston's famous golden honey mane has featured a few different styles of bangs, but she tends to gravitate towards a super flattering and low maintenance side sweep. These long bangs have just the right amount of feathered texture to look soft and feminine without coming across as too retro.
19Short Chic Side Sweep
We love how playful a short side swept fringe looks when worn with a loose, messy updo. This sultry take on a sophisticated hairstyle provides the perfect frame to play with bold lashes and heavy winged eyeliner.
20Short Choppy Bangs
The wispy texture in this short fringe creates a very specific look that you'll be fully committing to once the scissors start cutting. If you're feeling apprehensive about going this short, we recommend starting with a side swept style that hits just above the brows, allowing you to go shorter with your bangs as you get more comfortable.
21Thick Side Sweep
Some side swept bangs look separate from the rest of longer hairstyles, but this thick fringe melts perfectly into hair's upper layer. If you're looking for bangs that don't look out of place when you wear your hair in a fancy low updo, this is the side-swept fringe for you.
22Demure Pixie
With a soft demure sweep across her forehead, Michelle Williams' pixie hairstyle rises above modern trendiness. If you're looking for a classic and timeless way to wear side swept bangs, this short haircut is a game changer.
23French Bob with Side Bangs
A chin length bob can look severe when cut to the same length all around, but this deep parted side sweep does a perfect job of softening the look without removing its chic, French feel.
24Super Short Side Bangs
Sleekly swept to the side, these bangs are an example of how to wear a short fringe in a style that's not as overtly edgy as some of the choppier micro-bangs on our list.
25Textured Bob With Bangs
Sometimes the best element of a hairstyle is one that casually works with the rest of the look instead of popping out at you. Worn with an ultra trendy textured bob, this low-key side swept bangs help to frame Emma Stone's eyes without completely stealing the show.
26Short Thick Bangs
Short, thick, and just the right amount of choppy, these edgy bangs offer up more evidence that side swept doesn't equal boring.
27Soft Side Bangs Bob
Thick bangs are great for creating dramatic shapes, but if you don't have a ton of hair to spare they can end up making the rest of your hairstyle look limp. This bob features soft bangs that can easily blend in with the rest of the hairstyle, making it a low maintenance dream for women with fine to medium textured hair.
28Retro Bump With Bangs
This half-up hairstyle oozes retro charm thanks to some sweetly side swept bangs and tons of pumped up volume in the back.
29Parted Bangs Updo
With bangs that are parted slightly off-center, this hairstyle uses the best parts of both side swept and curtain bangs to its advantage. Nice angles are created across the face that highlight the eyes, but these bangs will be easier to style than ones that sweep dramatically across the face from a deeper side part.
30See Through Side Sweep
These subtle side bangs look incredibly sweet when paired with a softly layered mid-length style. Because these bangs are created out of quite a thin section of hair, they can easily be disguised among the rest of your hair if desired.
31Choppy bangs with flipped curls
The first look we have is a platinum blonde with dirty blonde highlights with a dark root. This style has flipped ends and a choppy bang which gives it a soft look. The makeup softens the face and gives a youthful appearance.
32Layered side swept bang with tucked hair
Next we have this beautiful red toned wavy look with a layered side swept bang. This look has a sweet touch with the hair being tucked behind the ear. Keep your makeup simple with a bold eyeliner and dainty jewelry.
33Half up and half down with side swept bangs
Here is a super fun half up and half down look. As you can see this is a great red carpet look but can also look great with your favorite jeans and T-shirt. Because the hair is very sleek and polished the pompadour adds texture and volume.
34Messy bun with side swept bang
Next we have a very cozy and essential style. This is a messy but cute everyday bun. This look is completed with a short/ long bob and wispy hairs. We love the coral lip and how it contrasts with the chunky gray scarf.
35Wavy locs with pompadour
A little frizz never hurt anybody. We are so loving this effortless wavy half up look. The bangs flow effortlessly into the hair creating a seamless look. The highlights really bring out the natural skin highlight.
36Messy ponytail with side bang
how cute is this low side ponytail? The teasing of the crown really adds some fun to the look. The side bang adds a bit of texture with it's light waves at the tips. The neon lip trend has been very popular so this neon pink lip gets an A+ from us.
37Neck length bang with side-swept bang
We love this shoulder length cut with a side swept bang. It is the perfect style if you want to go short but not too short. The platinum blonde with brown undertones is definitely giving us beach-babe vibes.
38Tousled waves with side swept bang
Khloe Kardashian is known for rocking her long locs. This chocolate tone really compliments her skin tone and brings out her earth green eyes. Use rollers to achieve these weightless curls. The side bang really helps to frame her face so that it doesn't get lost in her lush curls.
39Chic bob with side swept bangs
Here we have Ms. Taraji the queen of bobs rocking this simple executive bob with a side swept bang. Paired with this bold red lip she is giving us a sexy professional look. If you are looking for a sexy office style then this look is for you.
40Middle bun with thick side swept bangs
Taylor swift, America's sweetheart is rocking this flawless classic bun. She looks stunning in this coral look which brings out her ice blue eyes. To keep the look classic, she paired it with dainty diamond jewels.
41Long spiral curls with side swept bang
Megan good is rocking this super longer layered curled look. This jet black style takes a couple of years off of you. Pair it with fun and bold eye looks like you see here. Having it jet black allows you to play with many color combinations.
42Short curls with feathered side bangs
Not into the long and curly style like the previous style? Then try this short and curly look. Along with curls, this look has a feathered side swept bang. To dress this up wear it with a smokey eye and to dress it down pair with neutral tone eyeshadows and your favorite nude lipstick.
4390's tapered cut with side mushroom bang
Looking for a 90s vibe? Meagan Good is rocking this gorgeous tapered mushroom cut. We love the curled bang that gives this hairstyle its shape. We love that she paired this with a bold red lip and abstract earrings. This is perfect for women with heart-shaped faces.
44Purple shaved side with side bang
If you're the woman who likes a little edge then look no further. This style is a shaved side dyed purple and an ash blonde cut just below the ear. With this style, you can still wear a bun or ponytail. Experiment with vampy looks.
45Rihanna rocker cut with Asymmetrical bang
Okay Rihanna is the queen of originality. She simply looks amazing in anything that she tries. We are loving this honey brown swept mohawk. If you want a rocker chic look give this cut a try. Makeup lover? try her bold makeup as well.
46Long wavy hair with defined part
Here we have the beautiful Lala Anthony rocking these super lush curls. The dark brown highlights give this look a subtle pop of color. Her side bang falls flawlessly into her curls. We love that she kept it neutral with her makeup which really brought out her beautiful green eyes. This is perfect everyday hair because the color is not overpowering, the length is not to long or to short, and you can experiment with different styles like buns, ponytails, and updos.
47Long layered undercut
Here is Rihanna in another shaved look. This one is more of an everyday style. We love the neutral look of this look and how she paired it with this royal blue and gold japanese inspired ensemble. The gold accessories really make the look pop. This is definitely giving rugged glam vibes for us. Don't want to shave your hair? Simple pull back a section of your hair and gel back a strong holding gel to create a faux shaved side.
48Blonde twisted updo with bang
Mary J know for her infamous blonde hair is rocking a twisted updo with a side swept bang. The volume in the crown area is what gives this style its elegance. If you have a formal affair and still want a fresh look this is a go to style for you. We love how she paired it with amber toned jewels.
49Ombre side pontyail
Here is queen be rocking her famous golden brown locs. She sported this fun lightly curled side ponytail paired with gorgeous dangle diamond earrings and a haute orange gown. This look is fun yet elegant which made it the perfect awards show outfit. If you have a caramel or olive skin tone give this honey brown color a try, it will definitely highlight your skin.
50Short pink boy cut with side bang
Bring out your inner rebel with this bold barbie pink. This hair is cut just below the ear giving it a bit of edge while still remaining feminine. Be edgy and dress this up with a striking black outfit or make it more feminine and dress it up with a fitting body dress and your best pair louboutins. The roots are brown which softens the hair but kick it up a notch and add jet black roots.
Related news:
Beautiful flowers roses bouquet photo
Everyday chinese clothing 2018
Indian air force uniform colour 2018
Gold hoop earring 2018
Pictures of decorated bedrooms 2018